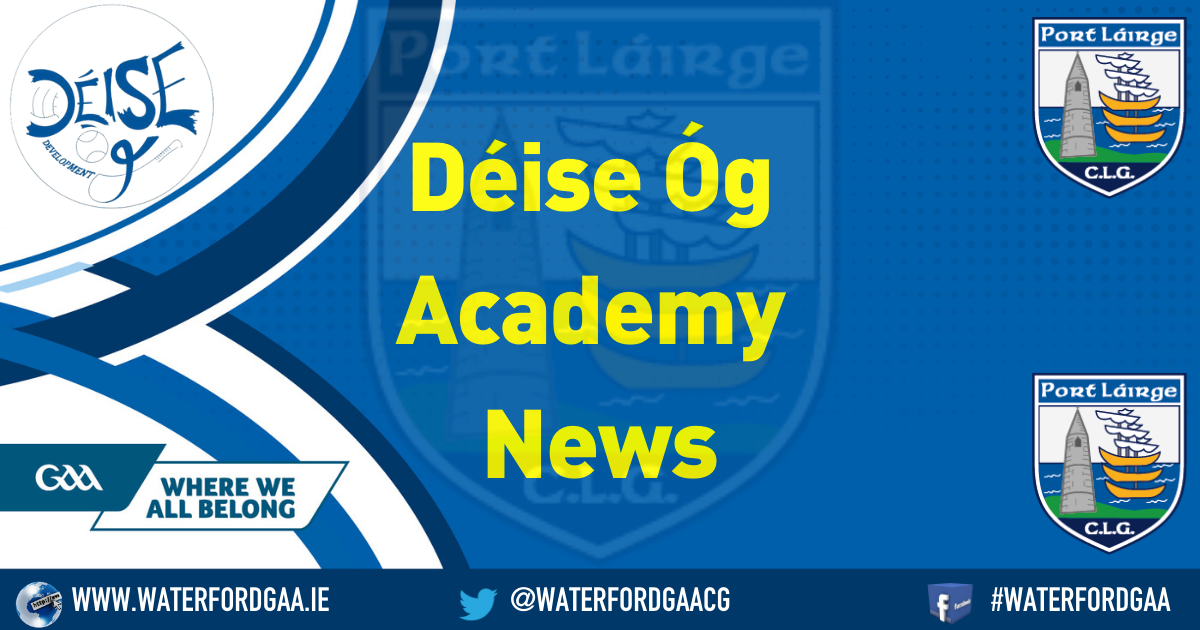 Busy & enjoyable summer for U16 Déise Óg Hurlers
"There's some great structures being put in"
DÉISE ÓG FEATURED SQUAD THIS WEEK; Under-16 Hurlers 
Gavin Whelan
Getting back together was the big thing for all our Development Squads this year and it was no different with the Waterford Under-16 hurling squad who've had a busy few months in terms of training regimes and matches as they continue to develop and improve. They are on a well earned breather from squad duty at the moment (until next month when they re-commence on their S&C programmes) but a lot of these players are busy with their clubs at the moment as we reach the business end of what's been a very competitive County-wide Minor hurling Championship, with the final round of group games taking place on Sunday morning next (September 12th).
Last week we caught up with U-16 manager, former Déise hurler and selector Shane Ahearne who admitted it was brilliant to have the group back collectively after an unusual 2020 season which was mainly occupied by individual training; "Yeah absolutely, if it look at 2020 was a very frustrating yearnot only for ourselves involved with teams but the players themselves, it was horrendous like you know, stop start, nobody knew what was happening. This year it was the 5th of June before we got the go-ahead, it was the first date we could go back together and we actually went back on that very date and it's been very good since and we've enjoyed it a lot". 'Shiner' said they've looked at plenty of players during that process; "We have had something like 56 on our squad for the last three months really, every Friday night for the months of June, July and August and it's been great. Now while we had 56, we had eight with this year's Minor team that we didn't see much of and that was great that they got a decent run with them but we've been very happy with the way things went this year".
The Ferrybank club-man says they've given ample opportunities to players and have cast the net wide and far in terms of looking at players, which they started in September of 2020 as the U-15 Bord na nÓg hurling Championship came to a conclusion; "Yeah if you go back to when we got involved first was U-15 lets say and we had trial games, and we trialled something like 109 young lads and we whittled that down to 56 and we've worked with them. There's a great spread of clubs, we don't care where you're from, if you can play that's what we want to see and that's why we kept it at a big number to give everyone a chance. And like we're also looking at players playing with their clubs as well, there's a lot of Minor Championships going on and a lot of clubs depend on some of these 16 year olds in their Minor Championship so we're looking at all those as well. There's only so much you'd see with a Development squad, it's good to see them playing Championship with their clubs as well".
So what has the summer of 2021 been like for our U-16 hurling Development Squad? Shane gave a run-down on how things have went since they came back collectively in early June; "Squad night is Friday night and that was fairly well adhered to for the months of June, July and August, that every squad be it hurling or football underage in Waterford is training on the Friday night and it meant that clubs knew that and they adhered to it. They couldn't be switching matches and that, the boards didn't fix matches and what have you. We had dates where we were allowed from Croke Park to play matches, one in June, one in July and two in August. We actually only got to play one in August but at least we got to play some matches as against last year, we were hardly together at all so it's been a big improvement this year". He spoke about the exciting new structures in place at Development squad level this season; "The Development squad this year, it's a system the way it's been brought, we're maybe 90% of the way of where we want to be, there's good structure there, good communication up and down and that like so I'd be very happy with it".
Shane finished by praising the new Development squad ethos with everyone working together from the top down, this can only benefit Waterford GAA going forward and it certainly is exciting times ahead; "Yeah there's a very good structure there now at the moment and like I suppose we were doing a lot of Zoom meetings in the early part of the year to try and set this up. At the top of the pyramid is Jason Ryan (former Wexford and Kildare manager, and ex-Waterford footballer) and down the football side he has Benji Whelan and down the hurling side, there's Jonathon Moore and then all the different Development Squads feed into that, and then as well as that you have Gerry Fitzpatrick overlooking all the strength & conditioning. I would have Mark McConnell and Evan Curran with me doing the S&C but they're part of a process that Gerry Fitz has put in whereby everyone is answerable to Gerry in that line, so there's a structure there. This is all coming with Eoin Morrissey, our Coaching Officer and Eoin Breathnach (Games Manager) in Walsh Park so there's a good group of people there to liaise with and help out, and to get advice from. As well as that, there's mentors for each squad as well, I have Fergal Hartley (former Déise captain of course who lead Waterford to Munster SHC glory back on that famous day on Leeside in 2002) so there's some great structure being put in and as I say, we're maybe 90% of the way to get to where we want to get to".
To listen back to our Audio piece with Shane Ahearne, click on the following link –
https://www.spreaker.com/user/wlrfm/deise-og-feature-piece-u-16-hurlers-shan
/
www.spreaker.com
Déise Óg Under-16 Hurling Management Team: 
Manager: Shane Ahearne, Coach: Brendan Landers, Selectors: Brian Mackey, Flannan Cleary, S & C: Mark McConnell and Evan Curran, Team Secretary: Patricia Walsh, First Aid: Eoin O' Neill, Kitman: Anthony Glavin.
https://www.waterfordgaa.ie/wp-content/uploads/2021/07/deise_og_academy_news.png
630
1200
Eoin Breathnach
https://www.waterfordgaa.ie/wp-content/uploads/2019/11/logo-254x300.png
Eoin Breathnach
2021-09-13 15:54:15
2021-09-13 15:54:15
Busy & enjoyable summer for U16 Déise Óg Hurlers