WATERFORD GAA – WELL!KIDS Partners with Mulligans Pharmacy and Specsavers
Mulligans Pharmacy and Specsavers are delighted to partner with Waterford GAA in this innovative venture  that brings families and their children together under the well! kids brand. Promoting physical and mental health is a core value for both our companies  and this opportunity to see up close how sport can be central to childrens  development through  our national games is  a very exciting challenge  for all. We look forward to working closely with everyone at well kids to ensure this initiative is a great success for both the sport and all  the young participants .
Mulligans, a family company since 1957
As part of the Waterford GAA overall strategic plan (Waterford Rising) one area in particular has caught the attention of clubs right throughout the county. Well!Kids is a new and innovative GAA club nursery programme aimed at 4-6 year old boys and girls. The primary aim of Well!Kids is to attract young children and parents of all backgrounds to our GAA clubs. Fun and enjoyment are at the core of Well!Kids and we are aiming for a top class coaching experience for children across County Waterford.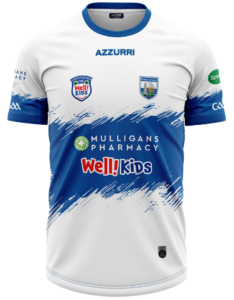 To register your club for Well!Kids 2022 click on link here https://forms.office.com/r/7ngDaKPiQ5
REGISTRATION FOR 2022 IS NOW CLOSED !!! 
Speaking at the launch Coaching Officer Eoin Morrissey encouraged all clubs to register for Well!Kids in 2022. "We are hoping that every child in the county gets the opportunity to take part in Well!Kids in their local club. We are providing equipment packs and activity booklets to all clubs participating in 2022 as well as support from our Games Development Staff and Well!Kids Committee"
Committee member Brian O'Halloran outlined the positives for clubs involved in the Pilot Programme in 2021 "Being part of Well!Kids was a great experience for these clubs with new playing members, new volunteers to help out and an increased sense of community for all all involved"
Well!Kids Social Media Links
NAME

Brian O'Halloran
Fergal Hartley
Michelle Ryan
Kevin Ryan
Michelle O'Donoghue
Eoin Breathnach
Eoin Morrissey
David Robinson
John Quinn
Barry Dunne
EMAIL

bohalloran23@gmail.com
fergal@hartleypeople.com
shelz12@hotmail.com
programmanager.waterford@gaa.ie
michelleodonoghue@live.ie
eoin.breathnach.gm.waterford@gaa.ie
coachingofficer.waterford@gaa.ie
david.robinson.gda.waterford@gaa.ie
john.quinn.gda.waterford@gaa.ie
barry.dunne.gda.waterford@gaa.ie
CONTACT DETAILS

086-6692737
087-9290760
087-9424860
086-8049293
086-8944780
087-9219345
087-2896735
086-2384950
087-7656158
087-6953648
Well!Kids Presentation PDF Document Set: