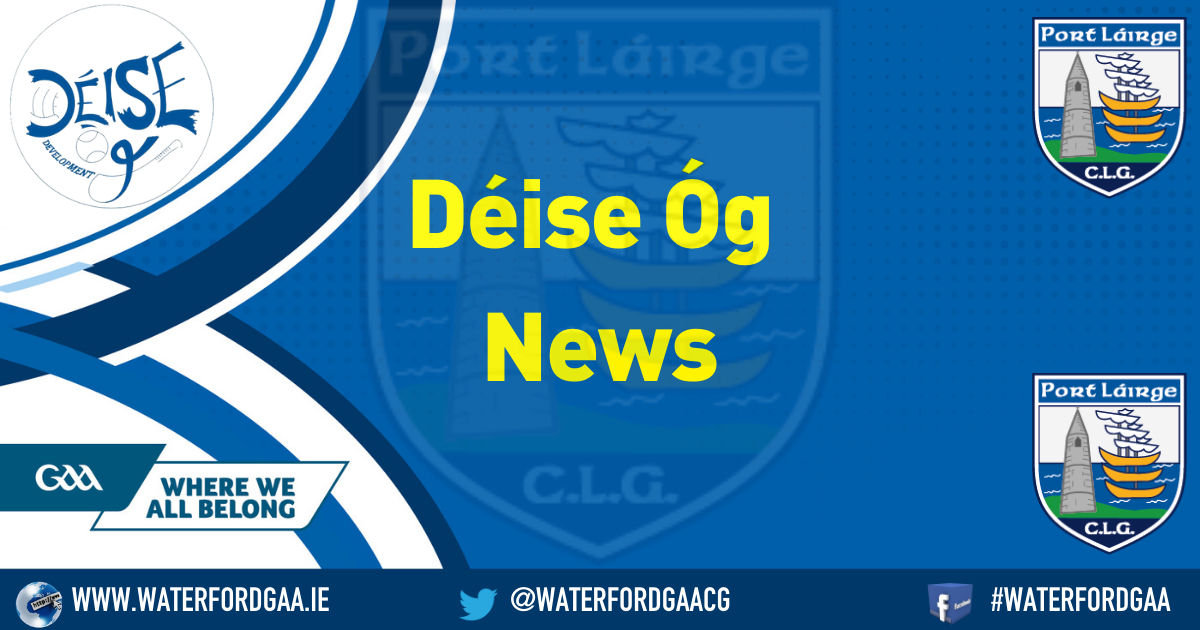 ASD Cúl Camp in Walsh Park a great sucess
"Spirits are high and everyone is loving it"
Brilliant week as Waterford GAA hosts 1st ever ASD Camp 
By: Gavin Whelan 
Walsh Park was a hive of activity in mid August as CLG Port Láirge in partnership with Deise Óg, Waterford Sports Partnership and WASSA (Waterford Autism Social & Sports Action) hosted a first ever camp for children with ASD (autism spectrum disorder). The popular camp got underway in a welter of excitement on Tuesday morning 17th Aug as the kids beamed at the opportunity of getting into Walsh Park and having fun. This was the trend for the remaining two days as the camp concluded on Thursday afternoon, and what a bumper three days it was with plenty of fun games, hurling, football, and rounder's to keep everyone entertained. This is the very first camp of it's kind hosted by Waterford GAA, who no doubt were delighted with the levels of response.
I popped along on the Wednesday morning to record a few Interviews with some of the organisers, and just to see to sheer joy on the kids faces was brilliant, it was a really well organised event and Rachel Sinnott (Community Development Officer with Waterford Sports Partnership) admitted it was a massive team effort; "So ourselves, Waterford GAA and then WASSA would have partnered together to create a camp for children with autism for 3 days, so we started on Tuesday and then two hours a day running up until Thursday, spirits are high and everyone is loving it so it's brilliant". Getting into Walsh Park was a massive hit with the kids as well, according to Rachel; "Fantastic – a few children came onto the grass and eyes beaming, couldn't believe that I'm actually standing on the pitch in Walsh Park which is fantastic. A first for some children so for them just even to get out and try a few new things, say we would have had fun games, they'd be looking at picking up hurleys and then playing a bit of football too so a mix of everything, it's fantastic".
The support and encouragement from WASSA was a key driving force in the project which will hopefully become an annual event. Bernie Murphy (Chairperson of WASSA) says they jumped at the opportunity; "We're delighted to be a part of it and we were delighted to be approached by Waterford GAA to help out and to help organise it. I suppose for us the big thing is we're here with children with autism but their siblings are here with them, it's not very often that they will all get to go to a camp together and it's nice to see all the siblings interact with each other as well. From my own point of view, it's great to see my own son out enjoying the different activities and getting to learn a few new skills and stuff like that". Sinéad Corcoran is part of the WASSA Committee and she spoke about the huge benefits which the children got out of the three days; "One of the big things is for a lot of these children, they wouldn't be able to manage a main-stream Cúl Camp which their siblings would be able to manage so for them to come and get the kit (the famous Cúl Camp kit including that very popular half-zip!) and to be here with their brothers and sisters is really special".
Déise Óg played a central role in the planning and organisation of the event with a massive effort put in by Games Manager Eoin Breathnach, Coaching Officer Eoin Morrissey along with all the coaches who brought great energy and enthusiasm to the table. Thursday proved to be a special day as county hurling star Jack Prendergast paid a visit to camp to meet the children and sign autographs, a brilliant way to end what was a terrific few days. Waterford GAA Coaching Officer outlined how the whole idea came out of hosting an ASD Camp, with Waterford one of only three counties (Clare and Wexford being the others) which held this particular initiative; "A number of months ago we had a few discussions with WASSA and Sports Partnership in Waterford who were interested in running a camp for children with additional needs. I used to work in Wexford GAA and it was done down there, so I looked into it a bit and spoke to the people who ran them before and we felt this was the time to do it. Put it on the last weeks in the summer, specifically for children with additional needs many of whom may not have the opportunity to participate in the other Cúl Camps so it's been fantastic. We've had a great turn-out, I'd say if we were able to run another one, we've have more children so it's definitely something we're doing more often in the future, not just in the summer, maybe at different periods throughout the course of the year". A brilliant three days, with everyone leaving Walsh Park with beaming smiles even though there were a few tired bodies on Thursday afternoon, a brilliant project which was a credit to all involved, well done everyone and we're already looking forward to the next one!
This week also saw the conclusion of this summer's Kellogg's GAA Cúl Camps and what another terrific few months it's been right across the county. "Yeah it's fantastic, over 5,000 children have attended the Cúl Camps this year which is amazing especially in the middle of a pandemic, we've had a massive turn-out" said Eoin Morrissey. A massive effort from everyone involved in terms of clubs, coaches, Déise Óg staff, club co-ordinators, it's one big team effort but I think it's fair to say (and I can speak with a coaches hat on here!) that everyone enjoyed the camps, with once again the main emphasis being on Fun & enjoyment, while also applying the 'Give Respect, Get Respect' initiative at all our venues. We'll do it all over again in the summer of 2022!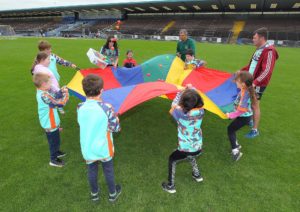 https://www.waterfordgaa.ie/wp-content/uploads/2021/03/deise_og.png
630
1200
Eoin Breathnach
https://www.waterfordgaa.ie/wp-content/uploads/2019/11/logo-254x300.png
Eoin Breathnach
2021-09-06 17:27:46
2021-09-06 17:41:39
ASD Cúl Camp in Walsh Park a great sucess