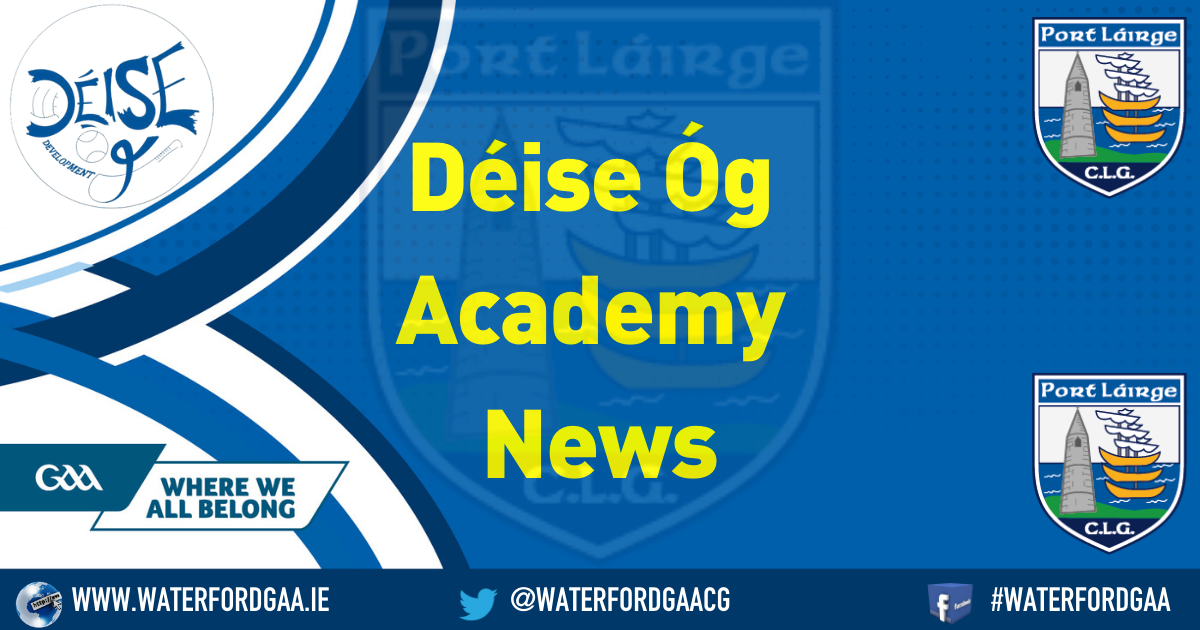 Positive Structures will allow our Squads to prosper
DÉISE ÓG Featured Piece: UNDER-16 FOOTBALLERS
By: Gavin Whelan
After a busy summer of action, similar to the U-16 hurlers, the U-16 footballers are currently on a breather from Development squad duties after a busy few months in terms of club and county activity. So it's fittingly that we take a look-back at how things have gone for this talented group who like the other Development squads, resumed collective training in early June having spent the earlier part of the year doing individual training and having Zoom meetings (which we became really accustomed too there for a while).
Before looking at how the squad went over the last few months, we first of all asked Waterford U-16 Football boss Vinny Murray about how he first got involved with this particular group; "How it started was, John Quinn was organising some things with U-12's back in 2017, some very low scale kind of once a month sessions with football one month, hurling another month. I kind of did a few little bits down in Carriganore with a group and that lead into the following year then when we were preparing for the U-14 squad which I suppose are the first proper Development squad system, and in December 2018 we would have had trials for the following year, for the 2019 U-14 squad and we would have held three or four Sunday's in December. We would have had 100 players trying out for it and you know we would have picked the squad then for the following January / February and would have started preparing the Jim Power tournament which would have taken place in July 2019". The Deise youngsters performed quite well in that prestigious tournament which is hosted each year the Bord na nOg Portláirge in conjunction with the Power family, Kilmacthomas and they were narrowly beaten by Tipperary in the plate final. "There was a probably a long lead-in time" said Vinny about his involvement with squads but his passion for the game is second to none; "Myself and most of the other selectors had a long history of Juvenile involvement in our clubs you know so it kind of just followed on from that".
The squad would have worked really hard on the training ground throughout June, July and August before breaking with numerous players involved with their clubs as the Minor hurling Championship commenced with two games a week. Vinny Murray who hails from the Rathgormack club admitted the management team were pleased with how the summer went; "We were I suppose but you have to be realistic too and as I say once club activity started back up, a lot of these guys were very busy. Funny enough, the U-16 squad, there's no U-16 club competition; they were probably the one group that weren't maybe over-exerted so the U-16's, we had a little bit more scope to do things with them. We stuck to our weekly sessions, we'd a lot of dual players and we'd agreements in place with the U-16 hurling management, Shane Ahearne, we'd avoid clashes and that worked out well. We would have been happy with what we got through in terms of matches and things like that; we'll reconvene with the squad into late September, into October. We told the parents to be expecting a message from us in the next few weeks so we'll wrap up the year properly with a few training sessions and possibly a match or two so it's good to tie these things up properly at the end of it, we would have been happy with things this year".
The whole structure and dynamic of our Squads has changed over the last while with a real positive vibe coming from all the various mentors, something that Vinny Murray also echoed; "There's a great structure in place in fairness, the work that was done during the lockdown by Deise Og and all the people involved, I've been knocking around the juvenile scene for a good few years but I would say, this structure that they've put in place now is probably the best ever we've in the county you know. Obviously it's only a structure, but certainly there's a real organisation and the people involved, with Benji Whelan, Jason Ryan, Gerry Fitzpatrick (who oversees the S&C side of things), Jonathon Moore. I mean they've done it all as players and managers and all that so they have a huge depth of knowledge that they can tweak things and improve them going forward so that should be a huge benefit to football and hurling in the county in the next 5 to 10 years I'd say".
So who else is involved with Vinny on the U-16 Football management team? "Most of us have been together with a couple of years so there's myself, Michael Flynn from Gaultier. Michael is the current Gaultier senior football manager so obviously would have played with Gaultier the whole way up, Walter Power from Kilrossanty. Walter would have played a high level when he was playing, Minor, U-21 and probably senior with Waterford and we were joined this year by Cillian O' Keeffe from Clashmore/Kinsalebeg. Cillian is still playing Intermediate hurling and senior football with Clashmore. I think its Cillian's first venture into coaching, he's been involved with Clashmore down through the years, he's been a huge addition and there's a lot of enthusiasm and new ideas. Brian Whelan from Fews would have been involved before this year, he stepped away this year. All these lads would have played at a high level so they know the standard to try and set, I suppose you are dealing with young boys but at the same time, you have to set a standard where you're going to come across in other counties you know, and try and push the guys that have the potential to go onto the next level and it's good to have lads that have been there and done that. They've great experience, very happy with the bunch we've had together".
To listen back to our audio piece with Vinny Murray, just click on this link; https://www.spreaker.com/user/wlrfm/deise-og-feature-piece-u-16-footballers-
Here's wishing Vinny and his squad continued success, there's a lot of the squad played County Minor this year and no doubt they will continued to wear that Déise jersey with pride and distinction well into the future.
https://www.waterfordgaa.ie/wp-content/uploads/2021/07/deise_og_academy_news.png
630
1200
Eoin Breathnach
https://www.waterfordgaa.ie/wp-content/uploads/2019/11/logo-254x300.png
Eoin Breathnach
2021-09-15 11:07:37
2021-09-15 11:07:37
Positive Structures will allow our Squads to prosper