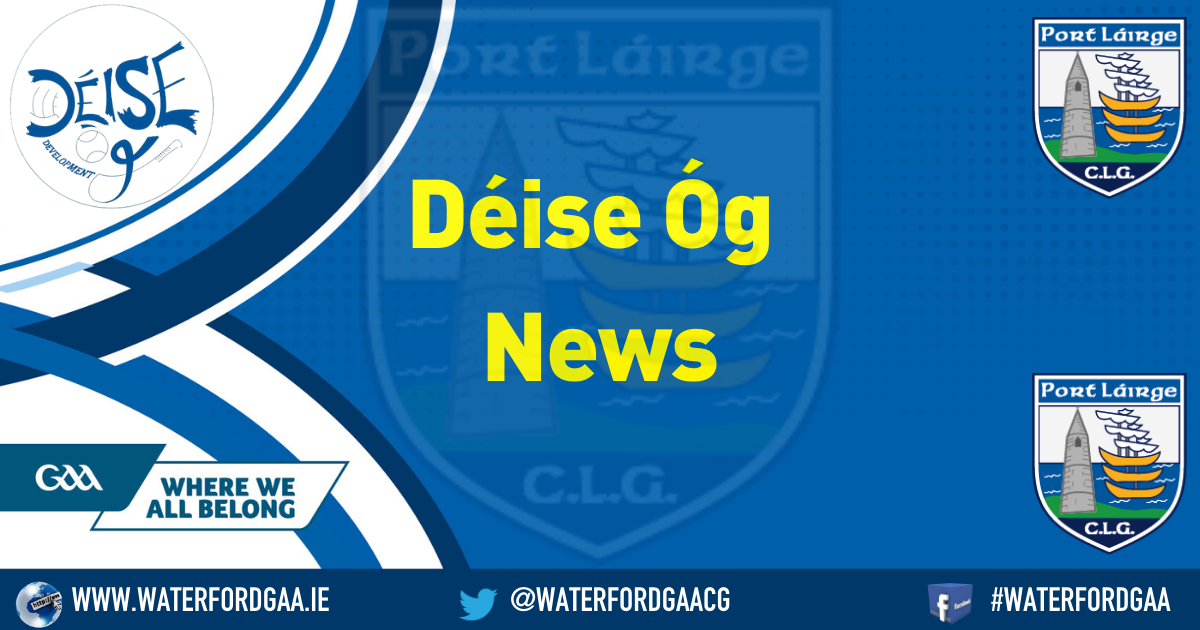 "THESE YOUNG FELLAS WOULD GO ANYWHERE TO PLAY MATCHES"
DAVID ROBINSON, Waterford GAA Urban GDA 
(In conversation with Gavin Whelan)
As 2021 draws to a close, we caught up with three of the hardest working people in Waterford GAA circles, the GDA's whose work often goes unnoticed but have played a central role in ensuring kids, and parents get involved in GAA and remain involved for as long as possible. David Robinson is the Urban GDA having previously held the mid-county role, a man who is no stranger to GAA and loves working on all projects bringing his strong passion for the games across wherever he goes.

The start of 2021 was challenging to say the least as we all became engaged with online meetings and tutorials and it certainly was a tough time for any Sport with seemingly very little light at the end of the tunnel; "It was a slow start on the playing fields" said David. "Our indoor hurling was booked into Ballygunner as per every year with the Under 7's and 8's and had to be cancelled in January, February and March, we had to cancel them but at least we were able to get back in March, especially into the schools and that, it was great to get back in. February and March, we were mainly contacting clubs really and trying to help them out with workshops and things like that, club structures".
David, who hails from the well renowned Erin's Own club in the city admitted that when May and June came, the main aim was just to get everyone back out and the field and ease back into things even though the games weren't long coming around; "It's brilliant for the kids to get out but it's also brilliant for the coaches as well, the coaches are there – they want to coach and they want to be in the fields as well, putting they're knowledged across to the young fellas. It's great to see new faces come in every year".
So what areas of the county does David cover in the Urban area? "My area really is the city area along with Passage and Gaultier, I've nine clubs altogether. I'd run the various blitzes (football and hurling) and we'd mix it then with the mid-county with John as well with the Under-9's and 10's and next year we hope to go all-county. We hope to start that in April, it's great to play different clubs and that, these young fellas would go anywhere to play matches or the parents would go anywhere, we want them to get as many games as they can". I think it's fair to say the games and blitzes came thick and fast once we were back up and running, it's brilliant to see the smiles on the faces off young kids coming out from Carriganore, or Dungarvan or wherever the case may be coming out from the blitz, that's what it's about for our young players.
David alos headed up the various schools projects at both primary and post-primary level which were part of the exciting new Waterford GAA Strategic Review; "We started with the Under-12's, it's a new project, we ran the U-12 every Wednesday in the three Divisions. We started with the urban, then we went to the mid, then to the West, we had two venues going each Wednesday in each division which was brilliant so there were over 60 boys attended every Wednesday whether it was hurling or football, we got a great response. We'd like to thank the clubs for giving us the pitches and the teachers as well. Most of the teachers and coaches we had, they were all inter-county players, it was brilliant for the kids". This was a well drilled programme for primary school kids and proved to be a big hit along with the other projects which involved secondary schools and clubs also (hear more about this in our audio piece with David, link is below).
We're only a few days out from Christmas but the planning has already started for the 2022 season; "Yeah hopefully we get a run at it, we're planning already for the Well!Kids (which we highlighted with Mid-Co. GDA John Quinn in our previous article), we hope to run it out to all the clubs next year and their academies and it'd be great if we could get that started in January / February and kick on from there with our indoor blitzes. If not, we used Carriganore the last couple of Saturday's in October and that, we had two U-7 blitzes and two U-8 blitzes in Carriganore, we had them in Ardmore as well and Dungarvan so hopefully if we can't use the indoors, we'll use Carriganore again, the bigger astro-turf areas, the kids loved it out there".
So once the turkey and ham is finished, let's tear into 2022 with renewed gusto and energy; "Yeah looking forward to it, said David (not the Turkey and Ham now!), it's great to keep busy and keep coaching away especially the schools as well, back in the schools is a big thing".
Roll on the New Year which is set to be another busy one, for now enjoy the festive period and we'll be ready to rock again in January, stay safe folks agus Nollaig Shona!
To LISTEN BACK to David's Interview with Gavin, please click on the following link https://youtu.be/lG-iQ_SEm7Q
https://www.waterfordgaa.ie/wp-content/uploads/2021/09/Deise-Og-News.png
630
1200
Eoin Breathnach
https://www.waterfordgaa.ie/wp-content/uploads/2019/11/logo-254x300.png
Eoin Breathnach
2021-12-22 14:36:13
2021-12-22 14:36:13
"THESE YOUNG FELLAS WOULD GO ANYWHERE TO PLAY MATCHES"