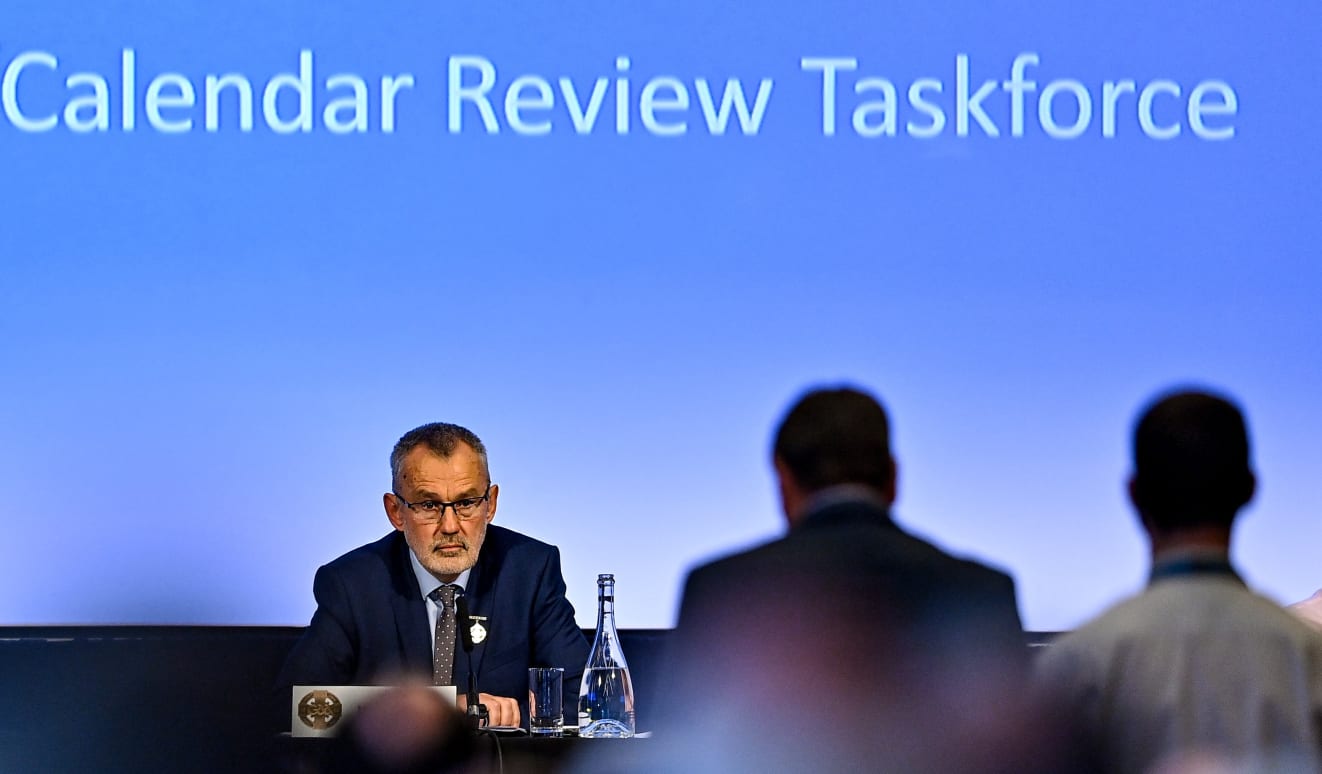 Larry McCarthy hopes to quickly revisit All-Ireland SFC restructure
GAA President, Larry McCarthy, says he hopes to see new plans drafted for a restructuring of the All-Ireland SFC in the very near future.
Both motions that proposed such restructuring were defeated at GAA Special Congress today, but there was nevertheless clearly an appetite for change in the room.
Motion 19, which proposed using the current League structures as the basis for a restructured All-Ireland Senior Football Championship received the support of 50.6% of delegates which fell short of the 60% majority required.
McCarthy was disappointed it failed, but is determined to bring forward further All-Ireland SFC restructure plans in the near future.
"Having said during the week that I hoped we'd be bold, based on the result, for me, we weren't bold enough in terms of it didn't pass," said McCarthy.
"But having said that we're looking forward to a pretty altered landscape anyway for the Championship in 2021.
"But, yeah, I would have liked to have seen it pass.
"I expect that we will revisit this very, very quickly. I'm not so sure we'll have something for (Annual Congress 2022) in February but there's a majority for change and every speaker said they'd like change. In a lot of cases it just wasn't the change that was proposed, but there's certainly a mandate there for change.
"We will contemplate and see how we will bring forward some alternatives in terms of the options that are put on the table.
"I think everyone who spoke against it prefaced their remark by saying we want change, we just don't like this change. And we also got 50.9% of people looking for change, so that would appear to me to be a huge mandate to push on."
GAA Director General, Tom Ryan, didn't rule out the possibility of bringing forward further All-Ireland SFC restructure proposals to either Annual Congress 2022 or a Special Congress later in 2022.
"It's a challenge, there's no point saying otherwise. But is it possible to do? Of course it is," he said. "As we went through this process there were other options considered as part of it.
"There are plenty of other permutations but it's not quite the same as going back to a blank sheet of paper. There's still a huge amount of value in all of the work and thought went into it.
"To the extent that it's possible to expedite something from where we are today, we're not in a bad position. But there's no point in saying that it's straightforward either there's a fair bit of work ahead of us.
"But half of the people in the room and hopefully that means half the people in the country supported what was specifically in front of them today.
"Another positive from today is that we know what the sticking points are. I think there's a core of an idea there and acceptance that there's a momentum and will to change.
"And we know what the tricky bits are around the edge of that. The provincial championships and where they fit into the scheme of things is clearly one. We'll have to acknowledge that."
By John Harrington (https://www.gaa.ie/football/news/larry-mccarthy-hopes-to-quickly-revisit-all-ireland-sfc-restructure/)
https://www.waterfordgaa.ie/wp-content/uploads/2021/10/rlvmetixyu6nslsegvus.jpg
774
1322
Richard Tobin
https://www.waterfordgaa.ie/wp-content/uploads/2019/11/logo-254x300.png
Richard Tobin
2021-10-25 10:38:58
2021-10-25 10:38:58
Larry McCarthy hopes to quickly revisit All-Ireland SFC restructure