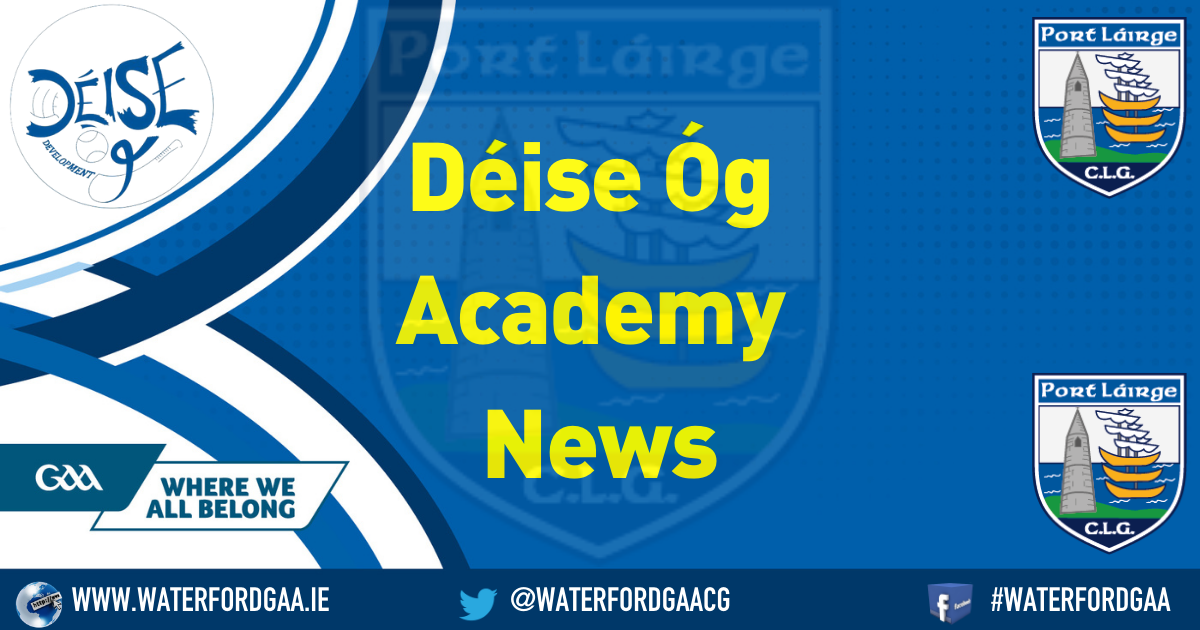 WATERFORD GAA STRENGTH & CONDITIONING INTERNSHIP 2021 / 2022
"It's very hands-on, it will develop you as a coach" 
WATERFORD GAA STRENGTH & CONDITIONING INTERNSHIP 2021 / 2022
By: Gavin Whelan 
It's an exciting and busy time for Déise Óg with lots of activities both on and off the field, we may be coming to the end of one season, but 2022 is only around the corner and already the plans are being put in place as we look forward to another busy year of action. As you may have seen across our social media platforms over the last week or so, we are currently seeking suitable candidates to apply for the role of S&C Interns where full training and support will be provided (
https://twitter.com/WaterfordGAA/status/1460318154228482053
).
This is an exciting programme and will further enhance our various Development squads to get them to the next level, this is something that doesn't happen overnight but with the help of passionate coaches who are qualified in the areas of S&C and athletic development, this is something that can be achieved with a strong backing from the Déise Óg team along with Waterford GAA with the legendary Gerry Fitzpatrick heading up this aspect of the programme. Gerry has been involved with many teams at both inter-county and club level, and brings a wealth of experience and knowledge to the role.
Mickey Cronin got involved last year with this exciting project, he outlined when he spoke to us earlier this week about how it all came about; "Last year there was an advert went up on Twitter and a cousin of mine, actually he's a strength and conditioning coach, just tagged me in it and I applied. I sent my CV in and I eventually went for Interviews with the board that was there and they talked me through what was going on and it's just great to be involved with an inter-county team and set-up basically. Starting out as an S&C coach you'd always love to be in with as many teams as you could to learn and progress, I was playing up until last year".
Mickey touched on how this aspect of the modern game in terms of S&C and how it has become a pivotal part of both underage and adult squads; "Testing is the big thing now, it's great to learn at that level, everything is testing now and seeing how your programmes are progressing, how your players are progressing. With underage and in terms of Déise Óg we're trying to get all the testing in and have documents there, and see what works and what doesn't work". Mickey is currently involved with the Waterford Under-14 hurling Development squad; "Our role when we started out, we were involved with the speed programme on field, the warm-up, speed development and implementing the programme for the strength/gym-based programme. So it's very hands-on, you get a chance to coach, you learn as a coach as you're going, you're working with some of the top coaches in Waterford. It will develop you as a coach, the networking you get from Déise Óg is invaluable really".
We asked Mickey about the benefits of being involved and why people should apply for these roles; "There's lots of doors that will open for you, and plus as a coach the main thing is to be there, be involved and be able to implement the plans that are in place. If you can learn all that as you go as a coach, it's massive going forward, you'll develop the players that are in front of you, you are networking. Internships like this are invaluable and I'd advise anyone to get involved if they can".
Sean Cleary from the Erin's Own club is also involved at Under-14 Development squad level having come through the athletic development and S&C programme which is an area is currently studying in WIT, Sean told us he's enjoying the experience of being involved at this level; "It's working really well at the moment, I suppose we started on the field a couple of months ago, it was really just a matter of us doing the warm-ups and sprint work at the start,  and now in the last 2 weeks we got into the gym, and we're working with all these players".
Sean admits the S&C element has become a vital part of the modern game; "You see with the Limerick senior hurlers, the level they're gone to, the physique of them, and you seen the Cork Minors last year (who beat Waterford in the Munster Final), that's where we need to get too over the next couple of years and the fact that Waterford are putting this in place will stand us in good stead going forward".
Interested in joining and getting involved with Waterford GAA? Interested candidates should email their CV to Eoin Breathnach (Games Manager) at
eoin.breathnach.gda.waterford@gaa.ie
with a closing date of next month.
https://www.waterfordgaa.ie/wp-content/uploads/2021/09/Deise-Og-Academy-News.png
630
1200
Eoin Breathnach
https://www.waterfordgaa.ie/wp-content/uploads/2019/11/logo-254x300.png
Eoin Breathnach
2021-11-19 13:03:39
2021-11-19 13:03:39
WATERFORD GAA STRENGTH & CONDITIONING INTERNSHIP 2021 / 2022