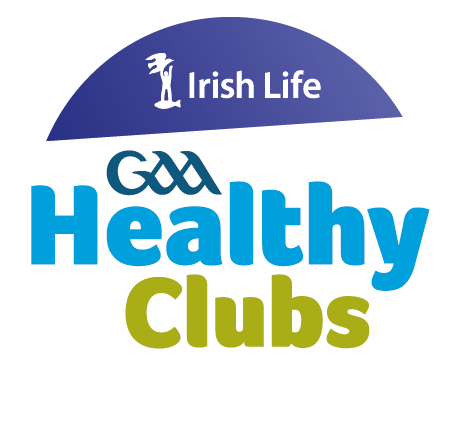 Please see an update  in the Irish Life GAA Healthy Club Project.

Smoke & Vape Free Club Grounds Initiative
Healthy Clubs Deadline
Dermot Early Youth Leadership
Pride Month at the GAA
GAA Football for All
Smoke & Vape Free Club
A reminder that the deadline to apply for the GAA Smoke and Vape Free Club grounds initiative is approaching. The initiative provides outdoor and pitch-side signage designed to inform patrons that a club executive has implemented a Smoke and Vape Free policy for their club grounds. 60% of the 450 clubs engaged in the Irish Life GAA Healthy Clubs programme have already adopted the GAA Smoke and Vape Free Club Policy.
The funding from Healthy Ireland (covering clubs in the Republic of Ireland) and the Tomar Trust (covering clubs in the North) will allow for the provision of signage to approximately 80 clubs. Clubs participating in the Irish Life GAA Healthy Clubs programme will be prioritised however the wider club network is also encouraged to apply (and will be considered if the funding pot available allows.) County grounds are also encouraged to apply through their respective County Health & Wellbeing Committees.
Please note applications close June 28th at 5pm. You will receive an email informing you if successful after this date. Opportunity available to clubs who have not previously availed.
For more information, please go to: https://www.gaa.ie/news/gaa-clubs-encouraged-to-become-smoke-and-vape-free-venues/
To apply please go to: https://forms.office.com/e/F2qrAUstBG
For smoke free policy and information please go to: https://www.gaa.ie/my-gaa/community-and-health/substance-use-gambling-awareness/smoke-free-clubs
Healthy Clubs Reporting Deadline
A reminder to Healthy Clubs that Phase 5 will close on August 5th, meaning all steps must be updated and submitted by 5pm on this date.
The new Healthy Club accreditation model offers clubs the opportunity to progress to silver or gold after attaining the criteria to meet foundation level healthy club. Healthy Clubs with a foundation award do not have to strive for silver or gold awards but must continue to meet the Foundation Healthy Club criteria every two-years to maintain their status/award. Likewise, for Silver & Gold awards.
To retain their healthy club status, clubs must engage with the healthy club portal and update the required 7 steps to reach foundation level.
Club reporting takes place every 2 years on the Healthy Clubs. As we are now heading towards the end of Phase 5, the deadline for updating all steps and submitting to the portal is August 5th, 2023. This applies to ALL clubs in the Healthy Club project from Phase 1 to 5. Clubs who do not engage at all via the portal by August 5th will lose their award and will be required to complete the healthy club process again.
Dermot Earley Youth Leadership
On Saturday, June 10, young GAA members graduated from the Dermot Youth Leadership Initiative, an accredited programme by University of Ireland Galway (NUIG) delivered in partnership with Foróige.
The initiative, a tribute to Dermot Earley Snr's sporting and professional achievements and his commitment to community service, empowers young people to enhance their leadership capabilities, reach their full potential, and have a positive impact on the world around them. A massive congratulations to the Dermot Earley Youth Leadership Class of 2022/2023.
The GAA, Foróige and the University of Galway are seeking new clubs across Ireland to get involved in this fantastic initiative. The DEYLI consists of three modules. Module one focuses on the individual and their leadership skills, building their self-awareness, community skills, values and communication skills. Module two focuses on their ability to lead as part of a team enabling them to cultivate their skills further. Module three focuses on their individual leadership aspirations and offers the participants the opportunity to lead their own project within their community from conception to completion.
Those helping to facilitate the journey are a troupe of facilitators who volunteer and receive online training from Foróige. This training is the first step in the DEYLI process and Foróige are hosting online training over the coming months which are listed below.
Evening Options:
Monday 3rd July, Wednesday 5th July and Monday 10th July all at 6.30pm to 9.30pm
Monday 11th Sept, Wednesday 13th Sept and Monday 18th Sept all at 6.30pm to 9.30pm
Weekend Options:
Friday 6th October at 6.30pm to 9.30pm and Saturday 7th October 10am to 4pm
Friday 3rd November at 6.30pm to 9.30pm and Saturday 4th November 10am to 4pm
Anyone interested in being trained as a facilitator can register using the DEYL Training Registration Form. For more information on how your club can get involved with the DEYLI contact Stephen Quinn, National Community & Health Coordinator, Stephen.quinn@gaa.ie
Pride Month at the GAA
Players from across the Gaelic Games associations are being encouraged to show their support for PRIDE and the LGBTQI+ community during this month.
For Pride month we are shining a light on the significant work being done to make Gaelic Games more inclusive sports for the LGBTQI+ community. An Allies & Ambassadors launch took place in Croke Park recently and representatives of the GAA, Camogie Association and LGFA as well as the Gaelic Players' Association will march in the PRIDE parades in Dublin and Belfast.
https://www.gaa.ie/news/gaelic-games-players-encouraged-to-show-support-for-pride/
https://www.waterfordgaa.ie/wp-content/uploads/2023/06/irish_life_HC_11.png
430
454
Richard Tobin
https://www.waterfordgaa.ie/wp-content/uploads/2019/11/logo-254x300.png
Richard Tobin
2023-06-26 13:28:54
2023-06-26 13:48:50
GAA Healthy Club Update