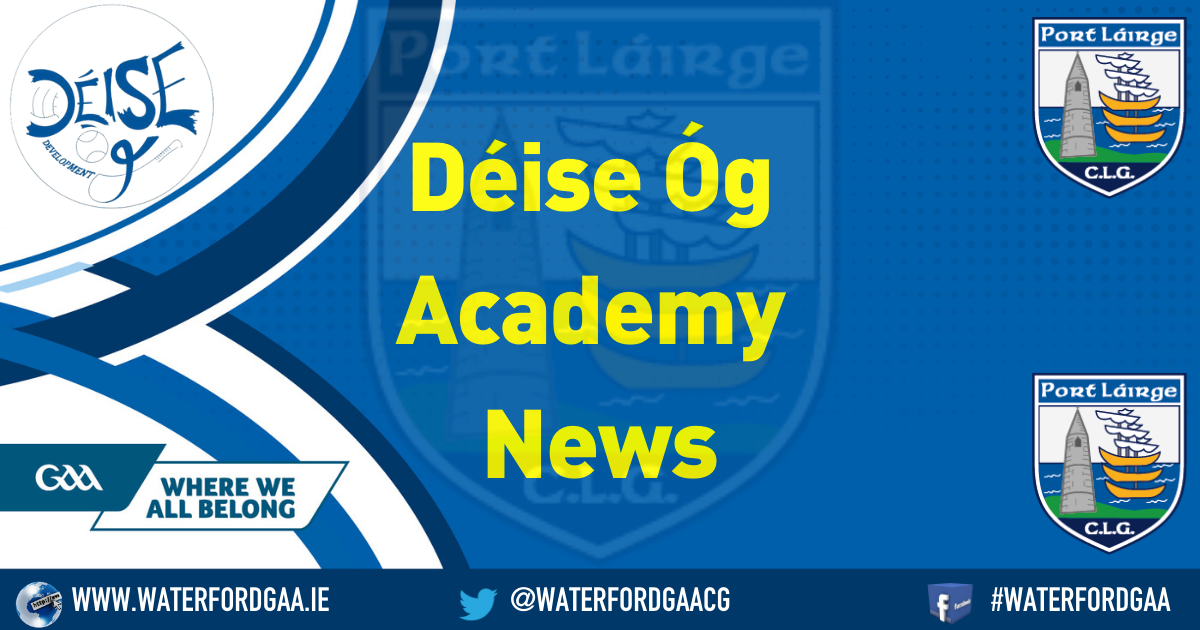 Déise Óg Academy Squad Footballers In Action This Weekend
DÉISE ÓG DEVELOPMENT SQUADS BACK IN ACTION AGAIN THIS WEEKEND
Featured Squads this week; UNDER-15 FOOTBALLER'S 
Gavin Whelan 
While the main focus will be on the Déise Senior hurlers this weekend (and here's wishing them the very best of luck in the All-Ireland SHC Quarter-Final against Tipperary), it's also another bumper weekend for our underage football academy squads who once again will be lining out in the county colours at various venues across the province this Saturday (July 31st). Our main focus this week is on the Under-15 Footballer's who are managed by Clan na Gael clubman, Michael Murphy. Before we touch on the Under-15's, just to also mention that the U-14 and U-16 footballer's are also in action this Saturday. The U-14's will make the lengthy trip to Martinstown, Co Limerick with 2 two Waterford sides who will play games against Clare and Limerick, and a 3rd team in Thurles against Tipperary while the U-16's will be at home to Tipperary for at 11am throw-in at the WIT Arena.
Speaking to us earlier this week Michael touched on how challenging the last twelve months or so have been for this age-group; "I suppose this particular age-group (U-15's), they've probably missed out more than anyone really because we had our squad selected at the start of 2020 and all the lads were looking forward to representing their county for the first time at U-14 level and we started a bit of training in January and February, and then Covid-19 broke and the world went nuts. This crowd of lads, they've missed a lot of important stuff – they've missed their Junior Cert, they've missed the Jim Power tournament, they've missed Féile (with the clubs) so I suppose all through 2020 we tried to keep the squad together and keep connected in this new mad world that we had via Zoom calls. And we did online S&C, we did a bit of video analysis (looking at old matches and footage), we set them skills challenges where they had to perform a skill and post videos and stuff up on the group chat".
People forget about the work that all our squads put in behind the scenes in terms of individual training, and everyone came back into the squad in great shape after the lockdown according to Murphy; "Yeah we were delighted, this year with the Development Squads there's a lot of work being done in S&C and we're very lucky that we have Joey Doherty and Eoin Trihy who've done some great work with the lads. It showed when they came back on the pitch when they were all flying, we left them as boys at the start of 2020 and they back as men in the middle of '21 there you know, there's some great work being done". The S&C element is an exciting part of the various squads and it's something we'll be featuring specifically over the next while, chatting to a few of the guys involved so keep an eye out for that.
So who else has Michael involved in the management set-up?; "We've Des Kennedy from Gaultier, Dale Long from The Nire, Mark Nugent from Clashmore/Kinsalebeg (he's now living in Dunhill), Austin Dunne from De La Salle is doing stats and goalkeeper training, Shane Gough from Rathgormack is Secretary and then as I said, we have Joey and Eoin starting the strength & conditioning with them so there's a wealth of football knowledge there in that group. There's an awful lot of football knowledge being imparted onto the lads, it's great to have people like that. We also have Pat 'Pako' Curran who is acting as a mentor to the squad, so he has done a session with us already and he's there at the end of a phone if we ever want a bit of advice, and obviously then Benji Whelan is part of the Déise Óg work group that's organising everything behind the scenes, it's great to have all that knowledge".
There are twelve clubs represented on the current panel of 32 players, all of whom are working really hard. They say games are what will bring on players and this group have another opportunity to go out and showcase their talents this Saturday in Dr. Morris Park, Thurles where the FIXTURES are as follows;
11:00am – Waterford Vs. Tipperary 2 
12:00 Noon – Waterford Vs. Tipperary 4 
Here's wishing all involved the best of luck and we'll be back to this squad again shortly to keep an eye on the progress being made which is very evident already. Next week we'll be focussing on the U-16 Hurlers so watch this space as they say! Have a great weekend and UP THE DÉISE!
https://www.waterfordgaa.ie/wp-content/uploads/2021/07/deise_og_academy_news.png
630
1200
Sportlomo
https://www.waterfordgaa.ie/wp-content/uploads/2019/11/logo-254x300.png
Sportlomo
2021-07-30 16:51:37
2021-08-17 16:55:14
Déise Óg Academy Squad Footballers In Action This Weekend