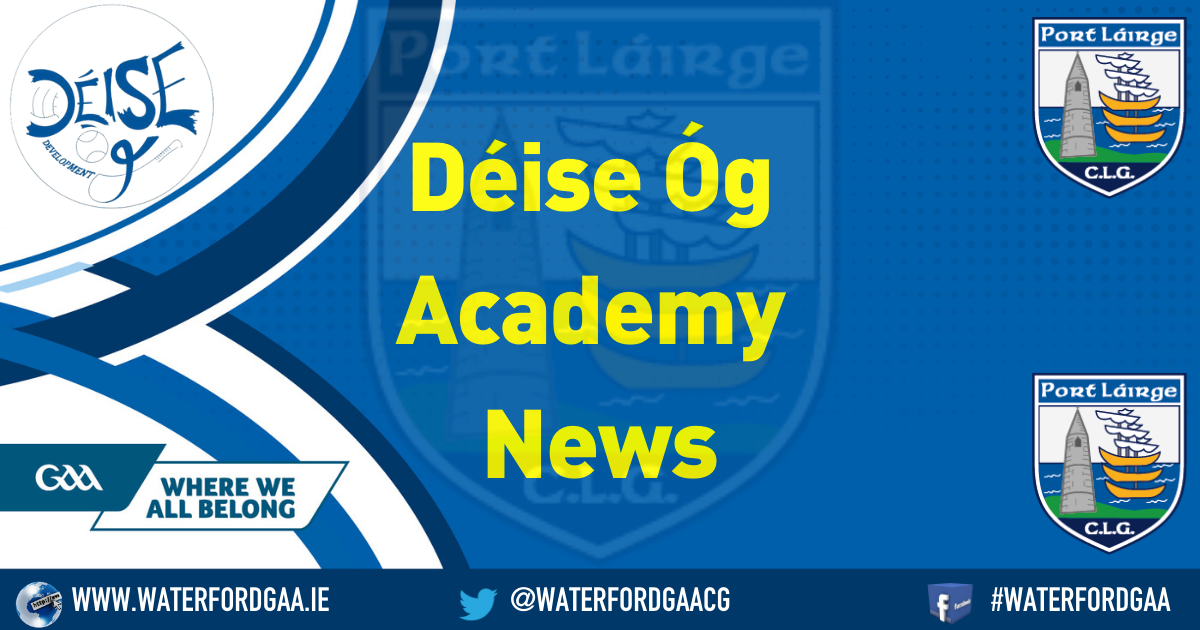 Déise Óg Academy Squad Footballers Begin Their Campaigns
"Summer sunshine and it's great to have GAA back". A quote I heard from a parent at an underage GAA game over the last number of weeks and it's something that stuck with me when we see our pitches thriving with players and matches back in full swing, and it's the same for Déise Óg Development Squads since they were given the green light to resume activity in early June. The weather has been good, the atmosphere is building the whole time, buy-in has been second to none and it's all good, but it's early days as we turn our attention this week to the Waterford Under-14 footballers who'll be in action on Leeside this Saturday afternoon (July 3rd). Eugene Lambert (Clan na Gael) and Trevor Costelloe (Stradbally) head up the management team, with able assistance and experience among the rest of the backroom team which includes Jimmy Maher, Martin Freeman, Alan Harty and Kieran Hallahan. It's a busy weekend for Déise football squads with the Under-15's and 16's also in action on Saturday, The U15's are based in Limerick where they'll play the home side and Tipperary starting at 12.30pm in Martinstown, while the U16's take on Tipperary for an 11am throw-in in Dr. Morris Park. Michael Murphy will oversee the Under-15 outfit, while Vinny Murray takes charge of the Under-16 side, both squads are currently working really hard behind the scenes and no doubt are keen to get out on the pitch and get game time.
Back to the Under-14 set-up, and this will be unique on Saturday afternoon as Waterford will have three teams in action as the management go through the trial regime of looking at various players, and giving everyone their opportunity with a massive buy-in from all clubs which is always great to see. Eugene Lambert (whose Interview will be available here or check out any of our social media channels) spoke about his delight about being involved with such a dedicated and hard working group; "Certainly, it's been exciting times with the U-14's, back in February and March, the coaching team had a number of workshops looking at various aspects of the development of the players and we're excited now to get on the field and applying what the group has been talking about. In fairness the team that's involved broadly speaking, Trevor Costelloe from Stradbally, myself from Clan na Gael working together in the group, the exciting thing about it is that we have very strong coaches with us across a wide range of clubs, Michael Byrne there from Kilmac', Jimmy Maher, Marty Freeman, Kieran Hallahan, there's guys there – they've managed and coached senior football teams across Waterford and now they're stepping into the U-14's to drive it on so it's really exciting times".
The squad will face Imokilly and Cork City at 4pm in Killeagh, three teams with two games per team, so plenty of opportunity and no doubt a stiff challenge as well against the Rebel opposition, but it's games that will bring these players on and playing at that level, I'm sure that's the way the management are approaching it as well. Eugene Lambert touched on the support the squad have gotten from the Déise Óg team; "The structure that has been brought into the U-14's with the S&C guys, you've very experienced guys there that lead certain aspects for athletic development, looking at the developing the player as a whole, there's lots of aspects that the guys are bringing to it". These are all qualified S&C coaches who bring a great wealth of knowledge to the various squads, and we will be hearing and talking to some of the people involved in this aspect over the coming weeks. Back to Eugene, who spoke about his own desire and passion for the game at being involved in Development Squads; "I'm coming from an U14 underage aspects of it where I'm seeing, being surrounded by very experienced guys coming in, looking at skills development , looking at how the players make decisions on the field, and bringing in small-sided games so you're really looking at the full picture. And it's really great to see a really broad spectrum of clubs represented". Overall, the vibes are positive, with a great support from clubs and the parents who are often the unsung heros in this situation in terms of bringing the players to training, or matches, washing the gear and putting the famous newspaper in the boots after an evening of training in the heavy rain! It's great for these young players to get a sample of what inter-county is about, and this can be a real stepping stone for their future development, there is no stone being left unturned and here's looking forward to following their progress through what'll be a hectic summer of action. Here's also wishing the various football Development squads the best of luck in their games over the weekend, and we'll have lots more to come over the coming weeks. For all the latest information, check out the various Déise Óg social media channels. Have a good weekend and UP THE DÉISE!
https://www.waterfordgaa.ie/wp-content/uploads/2021/07/deise_og_academy_news.png
630
1200
Sportlomo
https://www.waterfordgaa.ie/wp-content/uploads/2019/11/logo-254x300.png
Sportlomo
2021-07-02 15:36:48
2021-07-07 16:08:49
Déise Óg Academy Squad Footballers Begin Their Campaigns