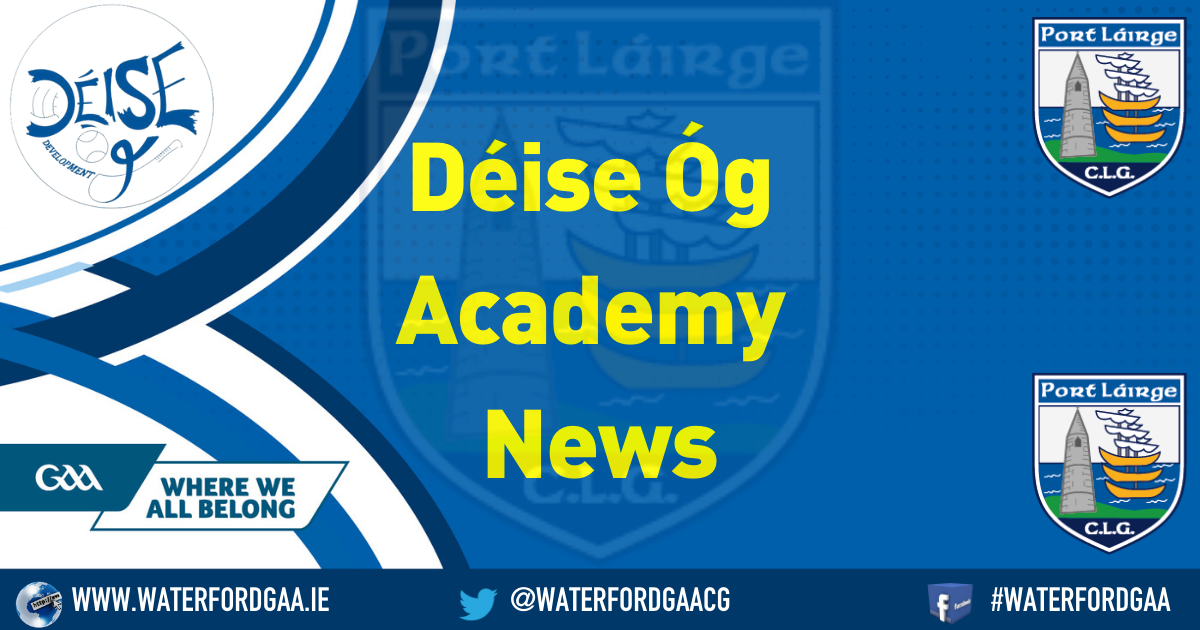 Busy Weekend For Déise Óg Waterford Hurling Development Squads
Featured Squads this week; UNDER-14 HURLERS

Gavin Whelan
It's a bumper weekend of action, and whilst most of the attention will be on the Waterford Senior hurling and football teams, it's also a big weekend for the various Déise Óg hurling Development Squads who will venture in action this weekend for they're first blitzes of the season. Development Squads are back with over a month and the response across all levels and both codes has been impressive, as we look forward to an exciting summer of games. The U-15 and U-16 hurling squads are in action this weekend, the 15's are managed by Tramore's Paul Rellis who brings plenty of experience to the role, while former Déise hurler Shane 'Shiner' Ahearne (Ferrybank) will manage the U-16 side, we wish them both the best of luck and we'll have more from those squads over the coming weeks in this exciting new feature, but this week our focus will be on the Under-14 hurlers who will have three different selections in action against Clare at the WIT Arena this Saturday afternoon (June 26th).
This squad have been working hard since they gathered collectively, up 'til June it was all about working away on individual programmes, before the go-ahead was given for squads to resume, and hopefully this season, they can get a full programme of games, and get that opportunity of wearing the county jersey, which is always something special. Former Waterford hurler and De La Salle clubman Eddie Barrett is involved as selector and coach with the U-14 hurlers and he spoke about the satisfaction that the squad are getting since they came in; "Yeah, absolutely – it's great to be back, it's my first time being involved with a county set-up underage and it's brilliant to be involved, some great guys there, Sean Power from Mount Sion (former All-Ireland Minor and U-21 winning manager), Kieran O' Gorman, Brian Partridge, some great experience there. So I'm learning as well and it's great to be part of it, the U-14 is a really nice age too, it's great to be involved and really happy to be back I suppose".
Sometimes we forget that this age group has had it really tough over the last year, in terms of missing school, no sport, constant lockdowns, and things like that, it's great to see them back on the pitch expressing themselves. Eddie Barrett admits U-14 is an important age-group as players come together and play competitive games at that high level, and it's an environment that is good for development; "You can see from the last couple of weeks at the trials and stuff you know, the parents are all there watching and supporting, the kids have been fantastic, great turn-out and enthusiasm at that age is fantastic, so it's great to be part of that and help in any way you can". He said they've been busy in terms of looking at various players over the last number of weeks and have cast the net wide and far in terms of players and clubs as they still go through the trial phase of giving every player their opportunity; "Yeah, so there's lads got loads of matches over the last couple of weeks (in terms of games amongst themselves), I think there's 60 odd players selected for this weekend so everyone is getting a really fair crack of the whip and there's nothing finalised yet so it's a real open panel, couple of good matches this weekend, couple of good matches next weekend, so everyone from a vast array of clubs is getting a great opportunity which is great to see".
Saturday presents a great opportunity for these young players, many of whom will be wearing the county jersey for the first time, a big occasion for them all, the Fixture schedule for Saturday at the WIT Arena in Carriganore is as follows: 1:15pm – Clare 3 Vs. Waterford 1, Clare 4 Vs. Waterford 2, 2:15pm – Clare 3 Vs. Waterford 3, Clare 4 Vs. Waterford 1, 3:15pm: Clare 3 Vs. Waterford 2, Clare 4 Vs. Waterford 3.
Waterford Under-14 hurling Management team; Ger Fitzpatrick, Eddie Barrett, Seán Power, Brian Partridge, Vinnie Codd, Donie Mac Murchú, Kieran O' Gorman, Alan Lawlor. Eoin Morrissey (Waterford GAA Coaching Officer) wishes all mentors, players and officials a great weekend of action. "It's great to see our underage teams back out playing again. They have only been on the field training for a few weeks, however the work behind the scenes by all in Déise Og, the Academy Workgroup and especially the management of the teams has been immense".
One big team effort and here's looking forward to an exciting summer ahead, you can listen to our Interview with Eddie Barrett by checking out the Déise Óg social media platforms where you can also get lots more information on the various projects and happenings. Here's wishing all squads the best of luck this weekend, Déise Abú! We also wish our Senior hurlers and footballers the best of luck in their respective Munster Championship Quarter-Finals this weekend, a busy one in prospect!
https://www.waterfordgaa.ie/wp-content/uploads/2021/07/deise_og_academy_news.png
630
1200
Sportlomo
https://www.waterfordgaa.ie/wp-content/uploads/2019/11/logo-254x300.png
Sportlomo
2021-06-25 12:14:47
2023-03-26 17:17:56
Busy Weekend For Déise Óg Waterford Hurling Development Squads