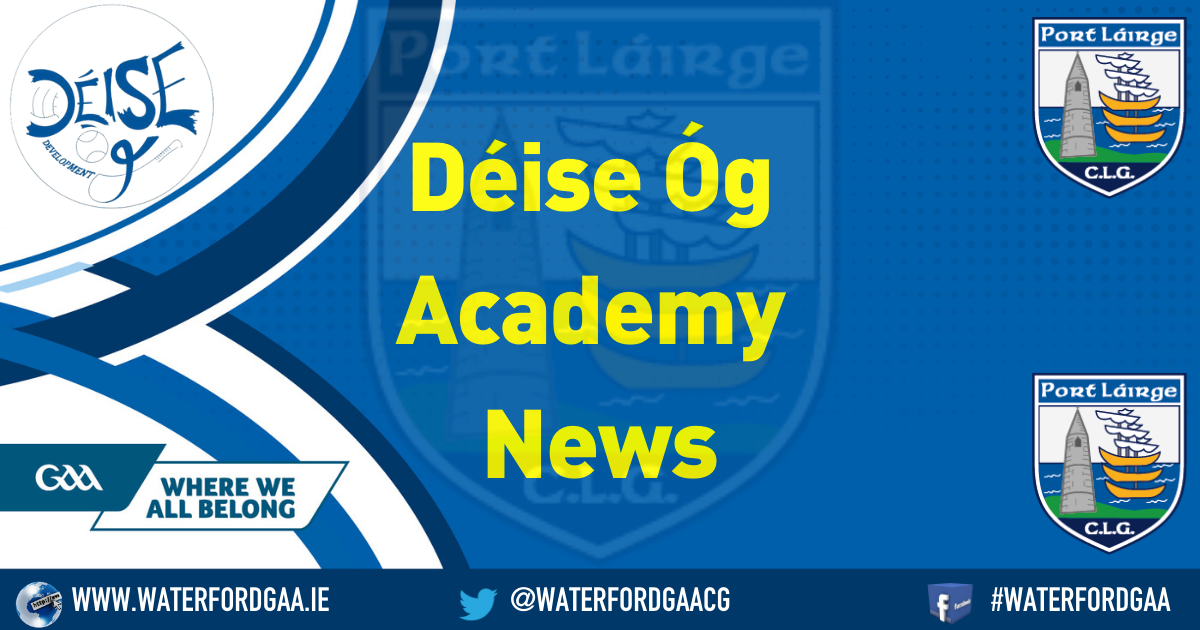 Busy Weekend Ahead For Déise Óg Waterford Development Squads
Featured Squads this week; UNDER-15 HURLERS
Gavin Whelan
The sun is shining, the ball is hopping off the ground and it's great to be back in action! It's another hectic weekend of Development squad action with the various squads in action at different venues (we wish them all the very best of luck) but our focus this week is on the Under-15 hurlers who as like every other squad have really enjoyed working together since collective training was allowed to resume in early June. Prior to that, it was all Zoom meetings, and strength classes online during the lockdown period but these players have worked hard and have come into the set-up ready to go and will no doubt be looking forward to putting out that county jersey this Saturday (July 24th).
The Déise side who are managed by Paul Rellis from Tramore are in action at the WIT Arena in Carriganore on Saturday fielding two teams (fixture details are below). Paul said they are a great group to work with; "It's great to have the young lads back like, they would have missed their Tony Forristal and Sonny Walsh tournaments (at U-14 level) last year, it's great for them to be back playing Sport again you know. We did a lot of strength and conditioning work during lockdown with them, and we gave them a lot of hurling drills and stuff to do but it's great to be back out on the field with them all again".
These young players have had a difficult twelve months in terms of Covid and not getting a clear run at training and games but this summer presents a great opportunity to showcase the talent that's there and Paul Rellis is well aware of that; "It's great for young lads, it's great for their minds as well you know, to be out there mixing with other young lads, it's great for everyone really to be back enjoying their Sport again, we all just have to be a little careful still but look it's great to be back out on the field with them anyway".
Rellis is pleased with everyone's attitude and application, he touched on the great representation of clubs on the squads at present; "We've 48 lads there at the moment and they're from 24 clubs spread across the county, there's a good team around them too – you've Vinny Walsh from Portlaw, John Fitzgerald is from Tramore, Jerome O' Shea (St. Molleran's), they're three selectors and they're doing coaching as well, the Secretary with us is Hannah Mansfield from Tramorem Sally Ann Walsh from Portlaw does 1st-aid with us, and the S&C coaches are Paudie Nugent from Clashmore and Mikey Daykin from Mount Sion, who've been absolutely fantastic with the young lads so far, and doing all that work with them during the lockdown as well".
So it's a really positive camp at the moment, with a lot of these guys busy with club activities at the moment also, we've reached the business end of the Déise in Dublin U-15 Bord na nÓg Co. hurling Championship with the semi-finals taking place next Wednesday evening (July 28th).
Saturday's FIXTURES @ WIT Arena, Carriagnore 
10:00 am – Tipperary South Vs. Waterford 1,  and Tipperary West Vs. Waterford 2 
11:00 am – Tipperary South Vs. Waterford 2, and Tipperary West Vs. Waterford 1

A busy weekend of action in store, here's wishing the lads the very best of luck and no doubt they will be shouting on the Déise seniors that afternoon as they bid to qualify for the All-Ireland Quarter-Final, but a stiff challenge awaits against Galway, bring it on and have a nice weekend! Port Láirge Abú!
https://www.waterfordgaa.ie/wp-content/uploads/2021/07/deise_og_academy_news.png
630
1200
Sportlomo
https://www.waterfordgaa.ie/wp-content/uploads/2019/11/logo-254x300.png
Sportlomo
2021-07-22 16:18:46
2021-08-17 16:20:49
Busy Weekend Ahead For Déise Óg Waterford Development Squads